Points of sale (NL-BE-DE)
Despite the fact that we are in essence a technical company, following development and production, we have taken on the role of manufacturer also. Alongside a national network of dealers, we deliver to end users and provide individual advice and support. We also deliver the necessary custom work. Our fantastic relationships with manufacturers and our own engineering department means we are also able to offer affordable solutions for single items. Quality is at the heart of what Frisian Motors does and you can take us at our word, a typical Frisian – otherwise known as – straightforward approach.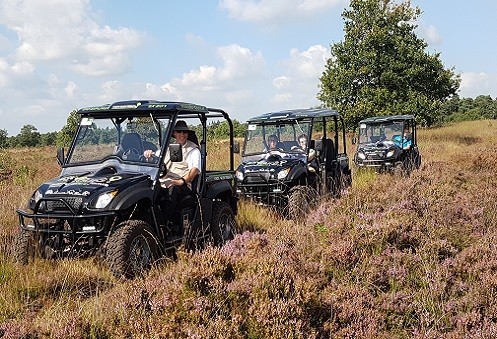 Frisian Motors was founded in 2010. An enthusiastic group of engineers had, for some time already, been fascinated by the emergence of electric vehicles. We delved further into the technology and became convinced that it was the future. "Electricity" is easy to transport and to manage. As well as which, energy storage is increasingly faster and more efficient. Given the advent of fully electric vehicles, there is a real upwards trend and with it we are seeing an increased awareness for environmental improvements. While it will be some years yet before fully electric cars are available for everyone, we have specialised in affordable solutions that that are not only environmentally friendly, but which also offer practical advantages.
After thorough investigation of the options nationally and internationally, we saw a unique chance to come up with a concept alongside a number of international factories, working together on this challenge. By keeping the design and development in-house, but outsourcing the production, we are able to deliver high quality products at a comparable price to traditional fuel models. Enabling Frisian Motors to retain control and responsibility for the end product.
All of our models come with a 12 month extensive guarantee as standard. At a surcharge, this can be extended to 24 or 36 months. The guarantee applies to both parts and labour. Parts are generally speaking not repaired, but are replaced with new items.
The guarantee and service is conducted at our location in Bakkeveen, but we can also provide a collection service at reasonable rates. We have weekly transportation across the country. It doesn't matter where you purchased your product, if for any reason your dealer is unable to carry out the guarantee or repairs, you can always rely on Frisian Motors BV.
The technology we use in our products mostly comes from Europe and is tested in the field. We also have a big say in the style and practical design of our products. We arrange things such as inspections and certification, making sure they are carried out directly in consultation with bodies such as the RDW (Motor Vehicle Licencing Agency) and TUV (Inspection and Product Certification Service). We use a range of batteries and controllers and then decide per product type on the respective price and performance relationship. All product types are extensively tested in the field before being released to end users. Based on feedback, any necessary improvements are then made.
Better for the environment-
We are often asked whether or not electric vehicles are better for the environment. The electricity they use does need to be generated and that requires energy too of course. We have an objective and clear answer to this: we think the advantage is to do with centralisation. What we mean by this is that at the moment any normal car has a combustion engine, which means gas emissions and using traditional fuels. It's the same principle as, for example, a large power plant generating energy, done centrally for multiple users.
A power plant is far more efficient when using the required energy and uses, for example, energy such as residual heat which is also converted into electricity. Gas emissions are limited to a minimum due to strict legislation and are constantly checked. In contrast to a car which, the older it gets, the dirtier it becomes, and which only uses residual energy in winter (heater). Moreover, there are increasingly more sustainable ways of generating electricity. Using green energy or solar panels means that you can start to make a serious environmental improvements, today.