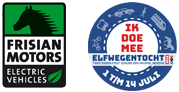 Frisian Motors
Manufacturer of electrical work and vehicles
Corporate Social Responsibility
Corporate social responsibility (CSR) is a constantly recurring theme within Frisian Motors. Not only because of the environmentally friendly vehicles that we produce, but also because we are actively involved as a team. And customers may also require this from us.
The topic comes back regularly during meetings and the CSR policy therefore becomes more and more extensive. Our policy is that we take it step by step with a feasible financial budget.
In 2017 we became a member of Freonen fan Fryslân. This is a network of more than 100 companies, local authorities and foundations with the aim to make Friesland fossil-free in 2025. You can find more information by clicking here . What particularly appeals to us to be Freon is the collective philosophy to create awareness and to get in touch with each other, to learn from each other in this way.
To keep you as a reader informed of our approach and contribution to a better environment, we would like to tell you in concrete terms how we are cooperating.
LED lighting
Frisian Motors has chosen a few years ago to replace the fluorescent lighting of the entire building with LED lighting. LED lighting has only advantages over standard fluorescent lighting: the service life is considerably longer and the consumption is at least 50% lower.
At locations where light is not always necessary – such as in the warehouse – there is a motion sensor. The lights go on when there is movement and go off again when no more movement is detected. As a result, electricity is not unnecessarily consumed.
Blue diesel
The company buses of Frisian Motors are now running on blue diesel. This idea came about during Freonen van Fryslan . For blue diesel, no fossil raw materials are used and there is considerably less harmful emissions.

Pellet stove
The workshop of Frisian Motors is well insulated, so heating can be kept to a minimum. A pellet stove has been used for two years. This pellet stove ensures that no more gas is used, which leads to fewer emissions. In addition, it works more practical than a standard gas installation.

Green electricity and green gas
Frisian Motors has been using green electricity and green gas for years from a local initiative in Friesland called Farm Stream. The electricity that is taken off is generated by means of windmills from local farmers. The green gas is generated by the burning of biomass that also comes from local farmers.
Separate waste
Frisian Motors receives weekly shipments from suppliers. The waste is stored separately in IBC containers and is collected periodically by firm Oenema from Oosterwolde. Among other things, a distinction is made between car tires, polystyrene, plastic and old paper.
Future plans
As stated earlier, corporate social responsibility is a continuous process. For example, at the moment we are looking at solar panels and sustainable cleaning products.
Frisian Motors is in the orientation phase for solar panels. The intention is to take part or all of the power supply into your own hands. In addition, we also examine to what extent it is possible to store the generated electricity and to use it for charging our electric vehicles.
In addition, Frisian Motors is currently in discussion with a supplier for sustainable cleaning products. These are cleaning products that contain no harmful substances, which saves the environment.
Vendors
A better environment is only feasible if we tackle it all. That is why Frisian Motors also expects suppliers to act in a socially responsible manner and the environment to be of paramount importance. In this way, together we ensure a better and cleaner earth.